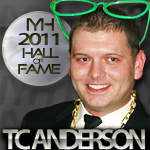 http://iyhwrestling.com/viewnews.php?autoid=4179
The first inductee into the IYH Fan Hall of Fame 2011 is TC Anderson.
TC Anderson is a long fan of IYH. TC is often overlooked for his tremendous posts and support of The Headyverse. TC really came into his own with the inception of The Carroll Crockett Cup where his poetry skills were discovered. TC is responsible for one of OIB & Jack's favorite posts on the old message board...the Headyverse as the Sopranos Family. We've seen TC grow up over the years and become a man now with a family and his own business. Proving once again IYH's power to turn boys into all American men.
We are proud to welcome TC Anderson into the IYH Fan Hall of Fame Class of 2011.