------------------------------------------
From the Nassau Coliseum in beautiful Uniondale, New York...

... it's the 2nd Annual IYH BUCKhouse Stampede!
Thirteen brave souls will duke it out to see who can lay claim to the Big Brass Boot as the "
Bulladawoods, ifyouweel
"…
But these combatants won't just be competing in an anything goes, over the top, weapons are legal, battle royal… No, no, no… They will be battling it out in an anything goes, over the top, weapons are legal,
STEEL CAGE battle royal
!...
And not in some silly cage that looks like a kid's toy…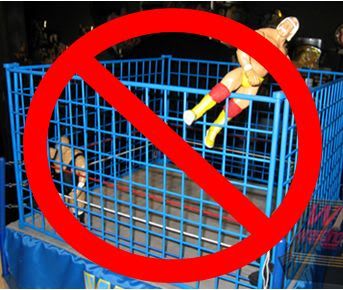 … but in a REAL MAN'S STEEL CAGE!!!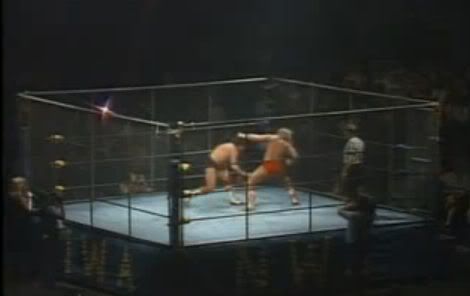 That's right… You're not eliminated by just being thrown over the top rope… No… You're eliminated when you're thrown
OVER THE TOP OF THE GODDAMN CAGE!!!
...
There can be only one winner. And because of that, one person = one vote… None of these competitors will be able to vote for themselves and their friend because
THERE ARE NO FRIENDS IN A BUCKHOUSE STAMPEDE!
...
Voting ends on Wednesday Night, January 11th… You can retract your vote at any time until the poll closes… Who deserves your vote?... Let them prove it to you…
GOOD LUCK!...
Nassau Coliseum notables...
Opened in 1972 at a cost of $31 Million Dollars and seating approximately 17,700 wrestling fans, The Nassau Coliseum is no stranger to large-scale wrestling matches, as evidenced below by some of the more historic battles this venue has hosted...
05/10/85 – The very first episode of Saturday Night's Main Event debuts on NBC, kicking off with a six-man match pitting the team of Mike Rotundo, Barry Windham, & Ricky Steamboat against George Steele, Nikolai Volkoff, & The Iron Sheik
04/07/86 – Mr. T defeats "Rowdy" Roddy Piper by DQ in a Boxing Match (WrestleMania 2)
01/24/88 – Dusty Rhodes claims an unprecedented FOURTH Bunkhouse Stampede trophy at the NWA Bunkhouse Stampede PPV
08/25/02 – Shawn Michaels comes out of a 4+ year retirement to defeat HHH in a Street Fight, while Brock Lesnar pins The Rock to become the WWE Undisputed Champion (SummerSlam '02)
07/20/08 – Michelle McCool pins Natalya to become the first ever WWE Divas Champion (Great American Bash '08)