In the spirit of the holidays, I thought I'd give back to this community by combining two of the greatest things our evil lizard overlords ever bestowed upon us… Those being
the Headyverse
and
WCW Slam Jam Vol. 1
. References to the Slam Jam songs have popped up on IYH for years, and they really are an amazing group of songs. Equally amazing is this board and the people on it. I've gotten a lot of enjoyment from most everyone here, so it was kind of a no-brainer to put the two together. I also wanted to do something, seeing as how there was no
Carroll Crockett Cup
or
BUCKhouse Stampede
this year. So, for the next 11 days I'll be posting one Slam Jam song parody each day based on a Headyverse member (or members). These parody lyrics will be released in the order they appear on the album, which is as follows:
Day 1 -
DON'T STEP TO RON
(Ron Simmons)
Day 2 –
MAN CALLED STING
(Sting)
Day 3 –
MR. BANG BANG
(Cactus Jack)
Day 4 –
MASTER OF THE DDT
(Jake Roberts)
Day 5 –
FREEBIRD FOREVER
(Fabulous Freebirds)
Day 6 –
SIMPLY RAVISHING
(Rick Rude)
Day 7 –
HERE COMES JOHNNY B. BADD
(Johnny B. Badd)
Day 8 –
THE NATURAL
(Dustin Rhodes)
Day 9 –
THE DRAGON
(Ricky Steamboat)
Day 10 –
HE'S SMOKING
(Barry Windham)
Day 11 –
STEINERIZED
(The Steiner Brothers)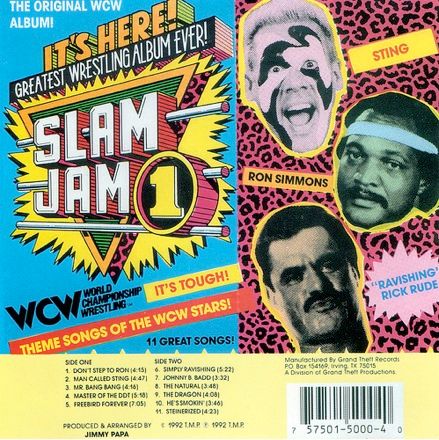 You'll have to check back each day to find out who gets which song. Speaking of which, I tried to include everyone I could, so if you're not part of a song, I apologize. In some cases, I had a certain person in mind for a specific song, but when it came down to it – for whatever reason - it just didn't work. Conversely, if you find yourself included and not happy about it, just try to remember that it's all in good fun. It's been said time and time again around here that if you can't have a sense of humor about yourself then you probably shouldn't be here… Anyway, I really hope everyone finds something here they get a kick out of. I do realize that just because I enjoy song parodies, it doesn't necessarily mean I'm any good at writing them. But I did have a lot of fun doing it, so there ya go...
That being said, just a word on how to read these lyrics: Obviously, the perfect scenario would be that you know all of these songs by heart, listen to them on a regular basis, and can hear the tune in your head as you read these new lyrics… But sadly, I'm willing to bet that probably isn't the case. For just that reason, I've posted a link to each song on YouTube. I highly recommend listening to the song BEFORE you read the lyrics (and maybe after as well… I mean, these songs are pretty fucking awesome). I've tried to keep true to the syllable beats of each line, as well as any weird phrasings used (and there are quite a few very weird phrasings in these songs), but I occasionally had to just go my own way with them. Hopefully, my choices don't make a complete hash out of things…
Well, enough of that… Let's get to DAY 1!...
_________________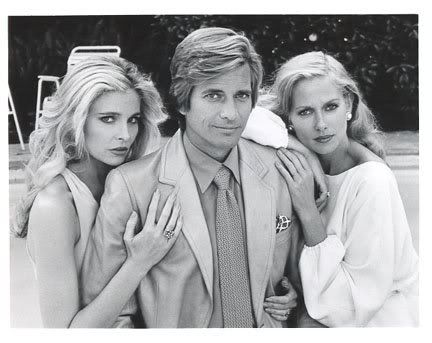 Donny: "It's Dirk fucking Benedict!"... Dirk: "I seldom use my middle name."