Lord Jaguar wrote:
Ok, who invited the Oompa Loompa to speak on big boy issues? Listen up real carefully sunshine. I'm not just better than Duane, I'm better than you and everyone one of the Cosby kids on the roster. If you even have a shred of doubt as to the accuracy of that fact, walk your happy ass over to your computer, pop open Youtube, and search my name. You'll see the box fill up with nothing but 5 star matches and shoot promos from better men than you saying how damn good I am. And just like I told sweet cheeks, if you want to find out first hand, you know exactly where to go to get your ass beat, whipped, and serverd back to you on a silver platter bitch!
Wow, that's creative. Oompa Loompa? Way to play off the midget remark I made. Plus I'm 6'4", and I don't have a Snooki tan. Cosby kids? What the hell does that even mean? I find it amusing that I'm supposed to believe that you're better than me - the Buckhouse Stampede champion - and everyone else
when no has ever heard of you
and still wouldn't have an idea if you hadn't stuck your nose in to yell "Look at me!" like a 14 year old girl with low self esteem and an extreme case of arrested emotional development.
I'm supposed to take time out of my busy schedule to go to Youtube, search for somebody I've never heard of, and watch a bunch of videos that you yourself probably uploaded featuring your matches in front of 4 people in a grocery store parking lot and people you paid - probably in food stamps - to talk about how good you are? I don't think so. Some of actually have...what's the word I'm looking for? Oh, yeah - lives. Besides, you don't have to search Youtube to know who I am.
You then finish your sad diatribe with a bland threat and the word "bitch." Seems like someone is taking inspiration from Monday Night Raw. Keep watching TV, kid. Maybe someday, you'll actually learn something good.
You know, after really thinking about this, I'm going to do something I never thought I'd ever do: I'm going to apologize to Duane. Duane, you may be a loser with an over-inflated opinion of himself and delusions of grandeur, but you're better than this scrub.
_________________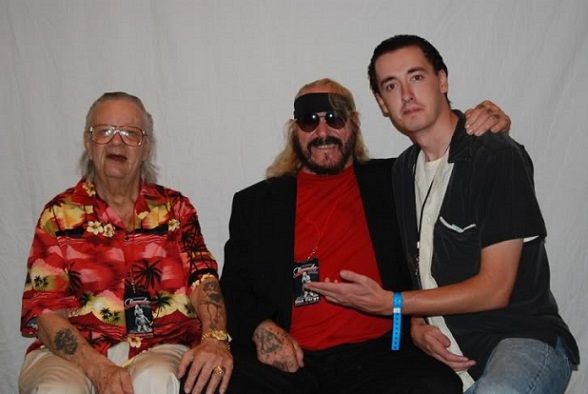 In memory of "Fabulous" Jackie Fargo